Print from outside your home/office network
Overview
"Print" or "Print & Share" needs a network connection to talk to the WePrint helper application
When you are outside your home/office network, you need to rely on your network router/modem to provide that connection. Generally routers/modems do not allow access from outside your own network so you need to configure it to do it. Our application can't configure this as it doesn't have access, it requires someone to set it up.

Back to top
Network setup process
You need your external IP address.
From a computer inside your network, use this address http://eurosmartz.com/cgi-bin/myip.pl to find your external IP address.
Note: Your external address should

not start with 10. or 192.

as displayed on the WePrint server
If your external IP address keeps changing, you could use a service such as DynDNS.com to provide you with an address that doesn't change when your IP address changes.
Make a note of your WePrint server address and port. Look at the WePrint window and it will display the server address and port (usually 8080).
You may want to set your computer with a static IP address so it doesn't change each time your reboot. Check your system help for this.
Check your network router/modem manual and open the configuration page.
Navigate to the port forwarding/mapping page (can also called "Gaming" or "Applications").
Set up the external/public port number. Try 8080, but maybe you need to try more common ports such as 80 or 23.
Set your internal/private port number, displayed in your WePrint application screen.
If available, select the type of "TCP".
Don't worry too much about the serice/application name. Use HTTP if available, or enter WePrint for your own reference.
Set your internal IP address, displayed in your WePrint application screen.
Check enabled, if there is such a setting.
Save changes.
To test this setup, use this link https://www.grc.com/x/portprobe=8080. Change the 8080 to whatever port number you set in step 5. It should show "Open", not "Stealth"
In your iPhone, from the Print screen, press the blue printer button and then press Add Server. You need to enter the

external

address (from step 1) for your home/office network into your iPhone, not the one displayed in the WePrint window.
Also enter the external port number, from step 5)
Press Connect to test the connection. If it doesn't work, try changing the external port number in step 5) as some cellular networks won't allow connections to some ports.
To test that your port number is open, try this address https://www.grc.com/x/portprobe=XXXX. Note: change the XXXX to the number of your port in 5) above.
Below are some sample router configurations screens. Make sure you change the "XX" to the correct WePrint server address
Back to top
Airport Extreme/Time Capsule
Go to Applications/Utilities and open AirPort Admin Utility, and select your base station from the list.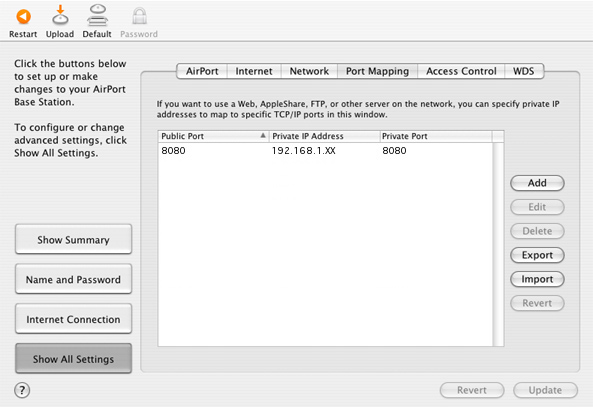 Select port mapping, then click Add.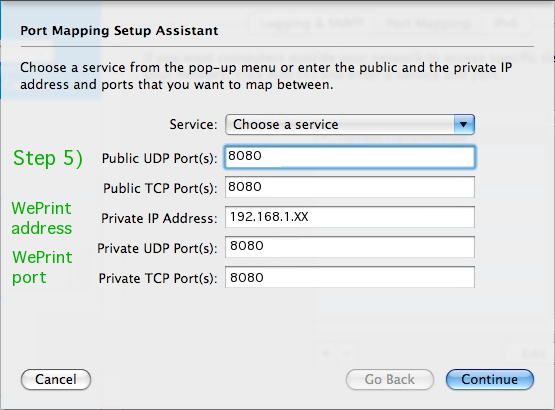 Back to top
Linksys WAG325N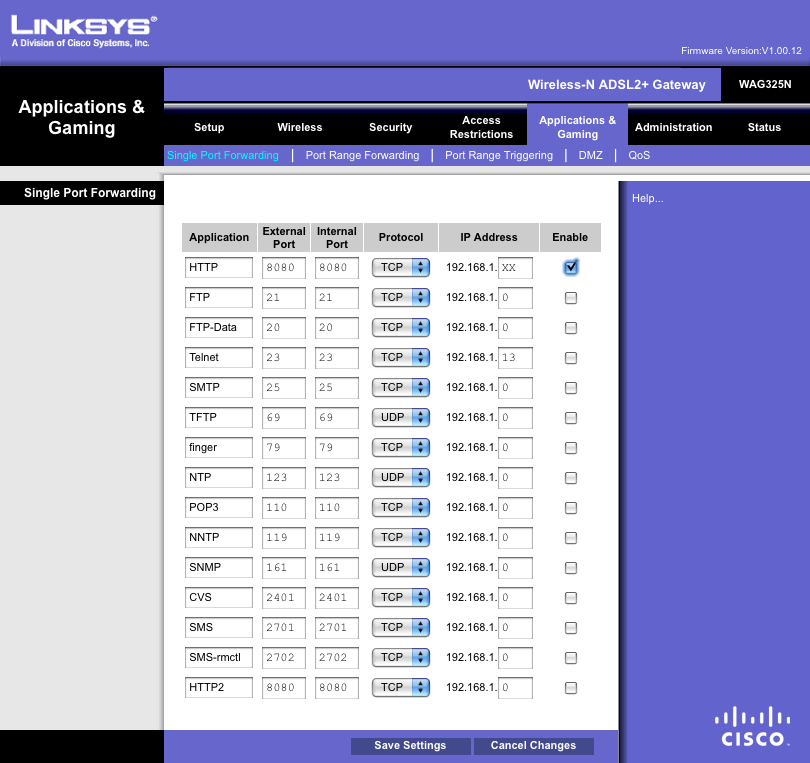 Back to top
Netgear
Navigate to "Port Forwarding".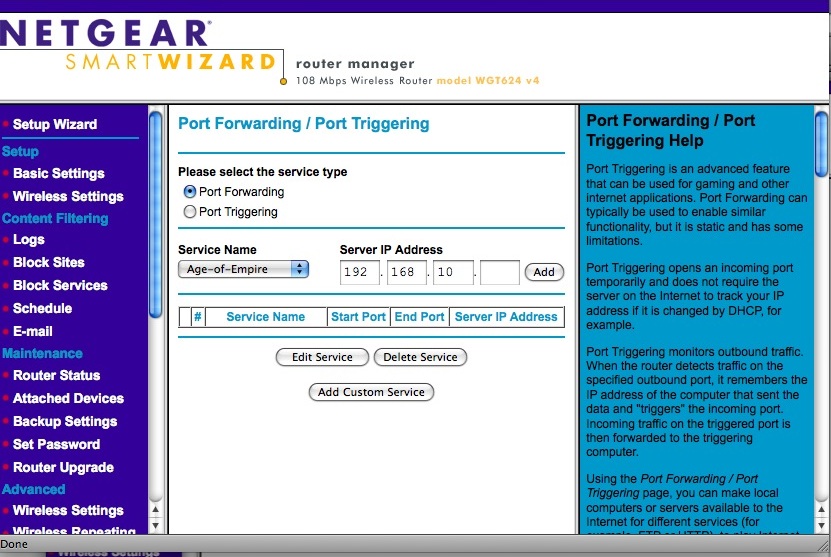 Click on add custom service.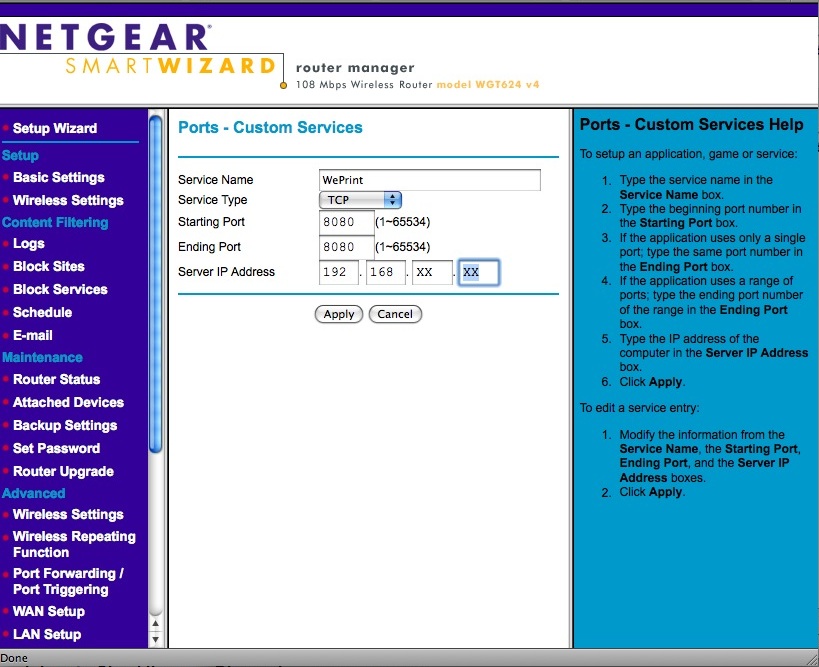 Back to top