AltaMail
The Ultimate Email App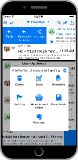 For iPhone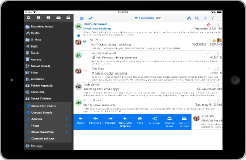 ... and for iPad
Major new update for Altamail 6
These new "AltaMail" features are not available in "AltaMail Classic".
"AltaMail Classic" provides legacy support for older devices and iOS versions: iOS 5.1.1 - 7.1.2
Notifications
Much faster push notifications
New notification layouts with action buttons and quick replies
Added Read Receipt option in the app settings or per email. Tap to view the read receipt history in a sent email to see when each recipient read your email
Notifications are removed if an email is deleted on another device or by rule/notification action etc.
Choose custom user supplied sounds for notifications
Record your own sounds for notifications
Choose new email, account, filtered, send and read receipt sounds
Spam
Spam handling is a lot more advanced now. You can use a swipe to mark an email as spam. This will move the email to the spam folder, block the sender and unsubscribe to any lists.
A new email rule can be used to remove spam from your inbox automatically by the using the spam sender block list. The spam rule can also run its own spam test or use a SpamAssassin score to process spam emails. The spam rule checks that emails from known senders an contacts are not marked as spam.
There is a new "Instant Delete" action in the Spam folder. Do a long tap on the Delete button to choose from send to trash or instant delete
Manage the spam blocked and known sender lists
Calendar Integration
Added calendar integration to view and print events, check availability and view email reminders
Added an "Availability" email to send your available times to others for booking meetings etc.
View and respond to meeting requests / calendar invites
Do a long tap on a date or time in an email to check your availability and add an event to your calendar or simply set an email reminder
Dates and times in emails are are viewed in a calendar preview screen and can be quickly added to your calendar
Show ICS files/attachments with date icon and view in a calendar preview screen
Print aps and directions for calendar events with addresses
Print reminders and shopping lists
Apple Watch
Access your emails from your Apple watch
View, read and even print emails and attachments from your watch.
Reply with quick reply templates or compose your own reply.
Rules, Searches and Filters
Added scheduled email rules, to process daily or weekly
Choose the folders and accounts that rules apply to
Added "Is List" to rules & searches to determine if an email is a bulk list email
Added "Has Flags" to rules and searches. eg sort by flags
Added "Account Category" to rules and searches
Added "Priority" to rules and searches
Added "Is Contact" to email & rule searches for checking if the sender or recipient is a known contact
Added custom email header field for email search & rules. You can choose any email header (hidden or visible) that is not already covered by the existing topics.
Added "Attachment name" as a new search field for rules and searches
New rule action to instant delete instead of move to trash
New rule action to print emails
New rule action "Unsubscribe from list"
Added nested search in rules. eg. when you want to search for Email from "Bob or Jim" AND subject contains "product or sales". You can include rules inside a rule so more complex searches can be built.
Rules/searches can use date delays in the date field, eg older than 2 weeks, 3 days, 2 years etc.
Added Copy/Paste of search/rule search fields to quickly duplicate rules and searches
Global email search using the "More/..." button when you search a folder or inbox
When using multiple devices, rules are check to only run once. eg. when automatically replying to an email, you only want one reply to be sent
Added search to rules screen to find rules with content matching search text
Added search for search fields to edit rules screen
Tap on the "And/Or" button to switch the grouping of the fields
Locations, Work-life balance
In order to manage your work and home emails, you can have different inbox views for different locations. For example you can display your business emails at the office and your personal emails at home. Your location will change the focus of your inbox. More...
For example, you can choose to display split panels where you can see your personal emails at the top, the top 3 most recent business emails below that and then the 5 next email reminders below that. You can make your own combined split screen layouts, sort filter and limit which ever way you want. You choose the options and number of emails displayed.
iOS updates
Support for iPhone X
Drag and drop files to external apps and also drag file/image/text content from other apps, eg inserting images or adding attachments into an email. Requires iPads that support Drag and Drop
Split panels/Folder filters
Folder Aspects have now become much more powerful "Folder Filters". You can use the full power of the search module fields to create your own folder view filtered by the many attributes of emails More...
You can combine multiple "Folder Filters" or other folder views into "Split Panels". Combine multiple folders or email accounts to be viewed in split sections in a single email screen. Change the sort order of each section and combine any number of panels in a single screen More...
There is a new action menu called "Panels". This provides quick access to the folder and account views that you use the most. It uses the same available options as the left side panel, but you simply tap on the panel button in the bottom left of the screen wherever you are to open a different panel view, eg Reminders, Browser, Notifications, Single folders and much more.
Signatures
Choose from multiple signatures when sending an email, for an account, the app default signature or email aliases
More advanced signature editing for formatting and inserting images. For advanced users, you can choose "Show source" ad edit the signature HTML directly for fine tuning image sizes and styles
Attachments
Import photos dialog has size and type options
The attachments layout has had a big upgrade and you can now check to do actions on individual attachments. Rename, delete or zip multiple attachments into a single zip file right from the new email screen
Use the "Send to device" from your Mac, PC or another device to send images, web address and files into your new email to insert in the message or add as an attachment
When viewing attachments and files, you can use "Send to device" to send the current file to another device or your Mac/PC
Added option to upload video files to the Photos app
Help
Added help search in tutorials and the getting started document More...
Download the help file as a PDF for printing or viewing later
Swipe actions
Added "Quick reply" swipe action and custom replies
Added a setting to disable swipe actions when viewing an email
Choose/edit actions screen can choose an email folder, Split Panels, Folder Filters and more.
Edit action menu items screen has settings button at top which edits each of the menu categoures below, eg searches, custom actions, accounts etc.
Removing all swipe actions will disable swipe, or just a disable swipe setting for each way
New improved action menu layout
Undo
Undo send emails
When sending an email as "Reply All", a red undo button will appear showing you that this is reply all email, as a reminder
Warn when sending an email with no subject by using an orange undo button with a warning
Added undo when viewing an email and delete or move to folder
Undo button remains when switching screens so you can cancel an action later
Browser
The new integrated web browser can save bookmarks and be viewed by adding a link to the side panel or global "Panels" menu. You can view the browser at any time and previous tabs are remembered
Choose an external browser for web links: Chrome, Firefox, Opera, iCab Mobile - by doing a long tap on a web link or choosing the default browser app in the app settings
Accounts
Email accounts can now have different category types, not just favourites. Now you can choose Business, Personal, Favourite or add your own categories. Accounts can belong to multiple categories and account categories can be added to the left side menu panel for quick access.
Email address aliases can now have names as well as addresses
Email aliases can now choose a signature for each alias
Added a BCC option to account level settings
Contacts
Recent addresses (known senders) are in the contact screen as a separate contact group
Add contacts to the device contact groups
Delete and add device contact groups
Delete and add contacts in the device contact list
When viewing the contact summary, you can edit the spam block or known sender list for this contact
Contact summary option to add a whole email address domain to safe list
Mail handling
Set max age and max emails filters per folder. Only load the number of emails you want
Set delete after days setting for folders. Older emails will automatically be moved to the trash
Added menu action to download all email content. If emails are not downloaded fully du to your mobile data saving settings, you can choose to download them later with an action
The destination email folder is refreshed after moving/sending/uploading email to show the new email
Added "Resend" action for an email
Do a long tap on buttons with a small "+" in the top right of the icon for more actions, eg a long tap on the reply button will show a menu for "Reply to all", "Reply with template" or just plain "Reply"
Changed email display time to received date instead of sent date
Other
Sync email appearance settings across devices
Setting to pop back to Inbox after removing an email on the iPhone
Added MDM (Mobile Device Management) for administration and configuration of multiple devices
Action to translate email content into different languages
Record a history of email moves, deletes, rules etc. Find when you received emails and where they were moved
Show day divider in the Inbox
New action menu option to "Add Priority" when editing new emails
New cleaner more compact email thread layout
Added sent emails in threads for non inbox folders
Long tap on the delete button will ask for instant delete or trash action
Long tap on the compose email button in the bottom right of all screens will show all drafts to quickly choose a saved draft
A slow swipe left or right on an email will show next or previous email
When adding a new account, you can choose to restore all settings from AltaMail Go and AltaMail Classic as well as import any accounts synced from other devices
When using the space limit for an email account, trash & junk folders are cleaned up first before other folders
Show the email checked counter beside check button in the inbox screen
Added remember sort preference for reminder screen
Show "Sent" splash window after sending a mail to show it has been sent, as well as playing a chosen sound
Ask user if they want to display all account folders for filters and "Unread" screens to save processing time
PKPass file support for adding to Wallet
Option to always show all mail "to" fields in the view email screen, App settings - "Display full email details in preview"
Changing the network will remember the last Default printer set for that network
Added 1Password for email accounts and web logins
Use the Action menu - Files, to attach emails to a new email as files
Added Outlook mail 2 factor authentication
Choosing images for attachments orders the images in the order they were selected
Added speech recognition dictation for new emails
Pending actions has alert icon for failed email uploads. Pending actions can retry an email upload
Tap on images in an email will save, open in, view or export to album
Add option to disable fingerprint unlock
Remember last search for emails and files
Can email video from the Photos app via the email extension
Added reminder alert on due time for file and email reminders