WritePDF
Create & edit PDFs, complete PDF forms and merge multiple documents into a single PDF
WritePDF is not just a common annotation tool, it is a powerful complete PDF editing/printing tool that is usually reserved for computers. Move beyond ordinary PDF viewing, form filling, PDF editing & annotation! WritePDF is the first app that brings together both ease of use and the sophistication needed for managing PDFs, word files, spreadsheets and many other documents on the iPad or iPhone. WritePDF is also the first app to be fully compatible with most PDF readers on Mac & PC, any changes made to a PDF on an iPad or iPhone will be reflected when opened on a computer and visa versa.
With the most powerful PDF editing and viewing engine ever made, WritePDF stands heads and shoulders above the rest and enables you to fill in PDF forms, add notes, merge new documents into PDFs, highlight text, add further text to existing PDFs and much, much more.
WritePDF is created and bought to you by the #1 top grossing business app company - with over 3 years of iOS app experience EuroSmartz is unrivalled when it comes to apps made for business environments
With WritePDF you can print or convert PDFs from other apps using "Open in..." or other methods - directly to most existing WiFI printers or to ALL printers via your Mac or PC. WritePDF has been optimized for the iPad 3 so you can view PDF files in crystal clear resolution.
Videos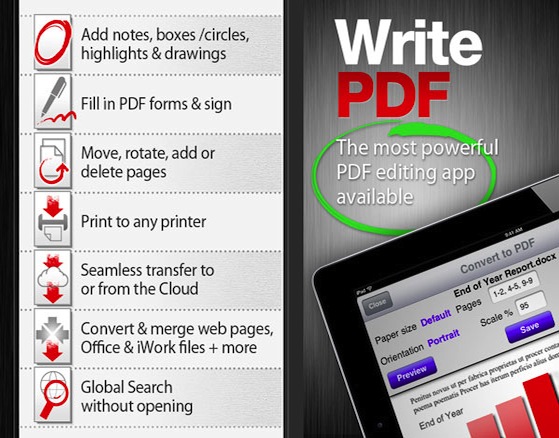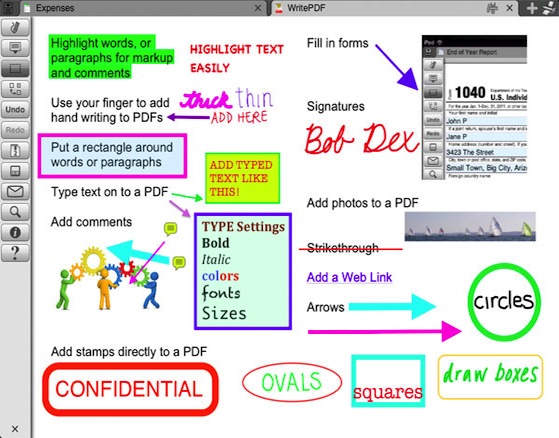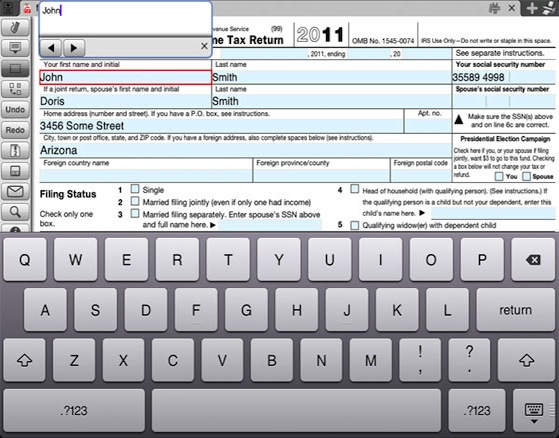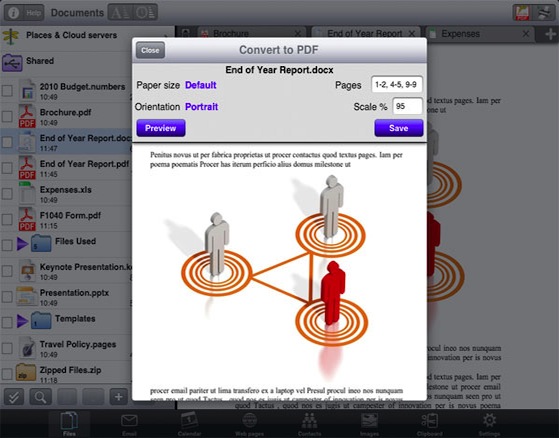 Features
PDF Editing
Add arrows, circles, squares and other shapes to a PDF
Add text & fill in forms
Use Highlighter to highlight single words or entire sections
Add web page links to words or sections of text
Transfer PDFs to & from other apps using "Open in..."
Fully compatible with most PC & Mac PDF readers, shows all changes
Insert pictures to a PDF
Global Search
Search for keywords or phrases in ALL files stored within WPDF without opening them
Search results displayed as tapable links
PDF Page Organization
Move, delete or add pages
Merge non PDF documents into PDF documents
Add, delete, rotate, copy/paste & rearrange pages
Add selected pages to an existing PDF from docs, spreadsheets or other files
Drag deleted pages back into document
Form Filling
Easily fill in PDF forms, even with multiple fields and boxes
Save your signature in the app and use when needed
WritePDF Support multiple form fields including alpha, numeric, bullets, checks and drop-down
Email/print completed form right from within the app
PDF Conversion & Merging
View/Convert/Merge Microsoft Office files, iWork files, Photos, PDFs, Contacts, Web Pages, Email & Email attachments as well as many more file formats
Create a single PDF from multiple files even if they are a different format (i.e. merge a Word file with a Pages document with an existing PDF etc.)
Save Web pages as PDFs
Print or convert PDFs from other apps using "Open in..." or other methods
Full featured Printing
Print direct to most existing WiFi or shared printers, or use the free printer software for ALL printers
Print from other apps using "Open in..."
USB & Bluetooth printers can be used with free print server software, WePrint
Print to any AirPrint enabled printers
Print remotely via 3G/4G
Print using ALL the same document formats to ALL printers that can used by your Mac/PC (e.g. USB, WiFi, Bluetooth, shared, networked etc.)
Print via Google Cloud Print
Document Viewing
View multiple documents in easily organized tabs
The best PDF reader available
View, search & print PDF documents
View/Print Microsft Office files
View/Print iWork Pages, Numbers & KeyNote files
Zip/Unzip files directly on your iPad
View files/documents in portrait, landscape and full screen mode
Edit and print text documents
Group files into folders
Drag and drop files and folders to arrange
Navigate through your computer's folders to find files
Copy whole folders from your computer
Share files with several Macs and PCs, even remotely
Reminders & Keywords
Set a reminder for a particular file, PDF or document
Reminders integrated with your existing calendar
Add keyword metadata to any file for easy searching
Add notes to that can be viewed without opening the file
Cloud Services & Email
Save attachments directly from Mail to WritePDF
iCloud, Box.net, Dropbox, Google Drive, Skydrive, SugarSync, ShareFile, FTP, WebDAV all supported
Move, edit and Print documents on your iPad or iPhone from your Cloud account
Move files to/from your iPad or iPhone by connecting to Cloud account
Share documents via Email
Copy Documents from your Mac or PC
Mount your iPad or iPhone as a network disk on your Mac/PC
Drag and drop documents & files to/from your iPad or iPhone
Open, view & send documents and files while away from your Mac/PC