Save2PDF
Convert, Create, Merge and Append PDF files
Create professional, great looking PDFs simply and easily right on your iPad or iPhone without having to go near a computer! Save2PDF will convert most file formats into a PDF including Word, Excel, Powerpoint, Pages, Numbers, Keynote, Photos, Web Pages, Contacts and many more.
Save2PDF also enables easy merging of several documents into a single PDF, even if the files are completely different formats (i.e. create a single PDF by combining a document with a spreadsheet, or a Pages document with a Word file). It is also just as easy to merge multiple PDFs into a single PDF file.
One of the other powerful features of Save2PDF is the ability to select a few pages from a file (i.e. a document or PDF) and a few from one or multiple other files - creating a new PDF containing only the pages required from those files.
The PDF creation, arrangement and preview screen is intuitive and easy to use. Rearranging document order, selecting page ranges and adding further documents is all contained within one single area; there is no complicated file structure or hierarchy to learn!
With Save2PDF you can print or convert PDFs from other apps using "Open in..." or other methods - directly to most existing WiFi printers or to ALL printers via your Mac or PC.
Videos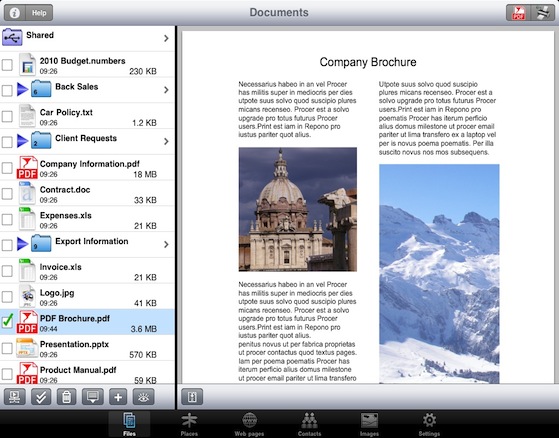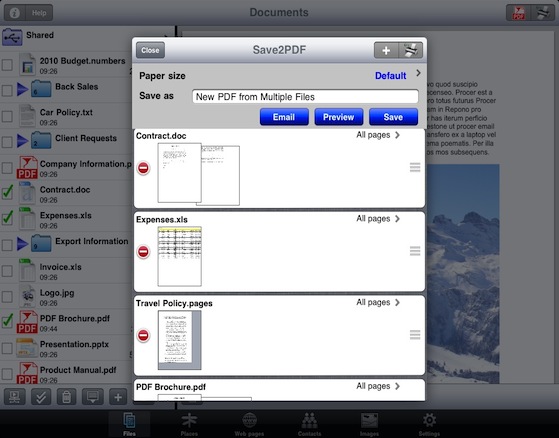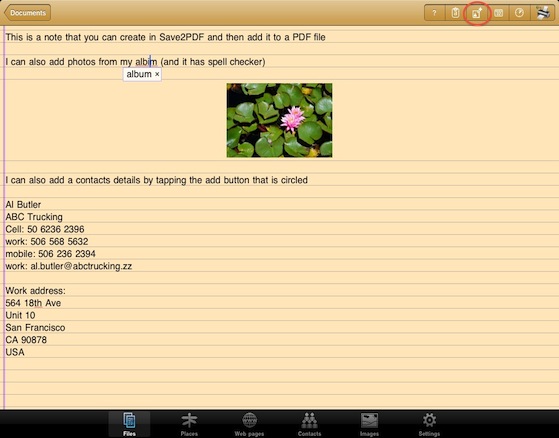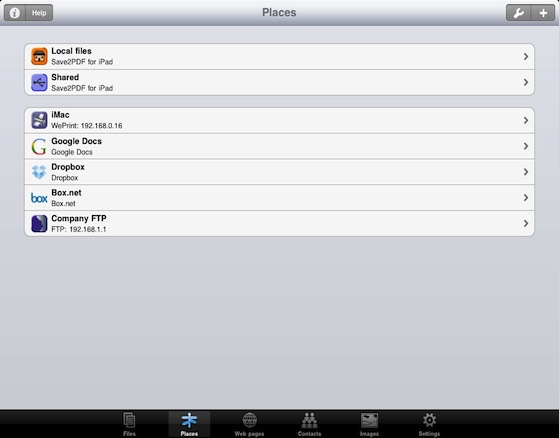 Features
PDF Conversion & Merging
View/Convert/Merge Microsoft Office files, iWork files, Photos, PDFs, Contacts, Web Pages, Email & Email attachments as well as many more file formats
Create a single PDF from multiple files even if they are a different format (i.e. merge a Word file with a Pages document with an existing PDF etc.)
Save Web pages as PDFs
Print or convert PDFs from other apps using "Open in..." or other methods
Full Featured Printing
Print direct to most existing WiFi or shared printers, or use the free printer software for ALL printers
Print from other apps using "Open in..."
USB & Bluetooth printers can be used with free print server software, WePrint
Print to any AirPrint enabled printers
Print remotely via 3G/4G
Print using ALL the same document formats to ALL printers that can used by your Mac/PC (e.g. USB, WiFi, Bluetooth, shared, networked etc.)
Print via Google Cloud Print
Document Viewing
View multiple documents in easily organized tabs
Ultimate big PDF reader
View & print PDF documents
View/Print Office 2007, XP, 2003 & 2008 files
View/Print iWork Pages, Numbers & KeyNote files
Zip/Unzip files directly on your iPad
View files/documents in portrait, landscape and full screen mode
Edit and print text documents
Group files into folders
Drag and drop files and folders to arrange
Navigate through your computer's folders to find files
Copy whole folders from your computer
Share files with several Macs and PCs, even remotely
Cloud Services & Email
Save attachments directly from Mail to Save2PDF
iCloud, Box.net, Dropbox, Google Drive, ShareFile, Skydrive, SugarSync, FTP, WebDAV - all supported
Move, edit and print documents on your iPad or iPhone from your Cloud account
Move files to/from your iPad or iPhone by connecting to Cloud account
Share documents via Email