PrintCentral
Top Business Print & Email App
PrintCentral combines all of the key features from the printing apps available on the iTunes store today. PrintCentral will enable you to print email, contacts, web pages, copied 'clips', email attachments, photos, text messages, shipping labels and much, much more. You can also move files to or from your computer and print them, as well as print pasted clips or store clips as files for archiving, previewing, emailing and grouping. You can also move files and your clipboard to or from your computer and print. The clipboard can also be shared with other devices with Bluetooth or WiFi.
Print from other apps using "Open in..." or other methods - directly to most existing WiFi printers or to ALL printers via your Mac or PC.
"PrintCentral for the iPad/iPhone/iPod Touch is the ultimate printing and file sharing app and works great with the new iPad 3rd generation."
PrintCentral will print direct to most wireless printers, or to ALL printers (Bluetooth, USB, WiFI, Network) via your Mac/PC using the free WePrint software. If WePrint is required on your Mac or PC you will not need to touch or be near your computer to print, you simply tap print on your iPad, iPhone or iPod Touch and the computer will act as a relay and automatically pass the print job from your device onto your printer without user intervention.
Installing WePrint on your Mac or PC will also give you the ability to print via 3G/4G, so even when you are out of your office/home you can quickly and easily send print jobs to your printer from your iPad, iPad 3, iPhone or iPod Touch.
Videos

PrintCentral is the supreme printing app for the iPad, iPhone or iPod Touch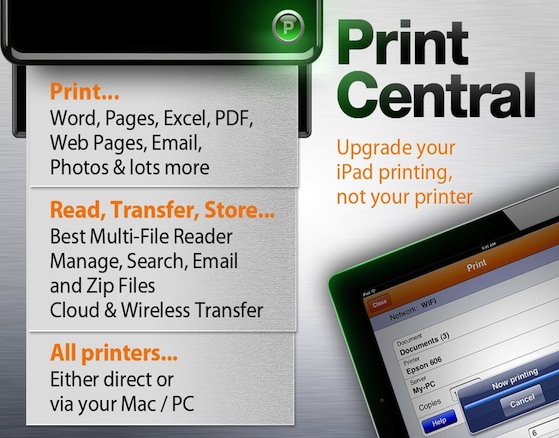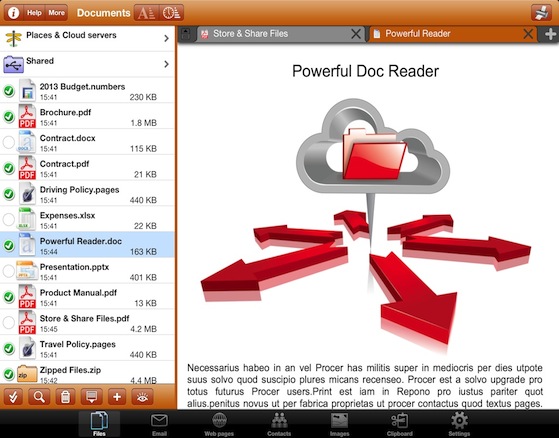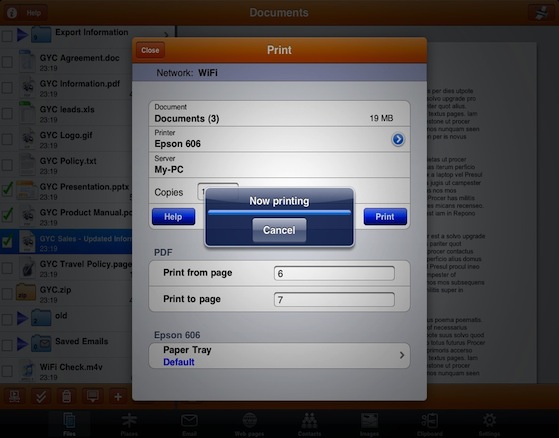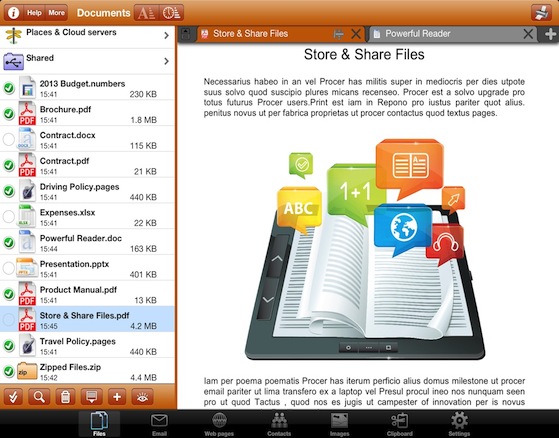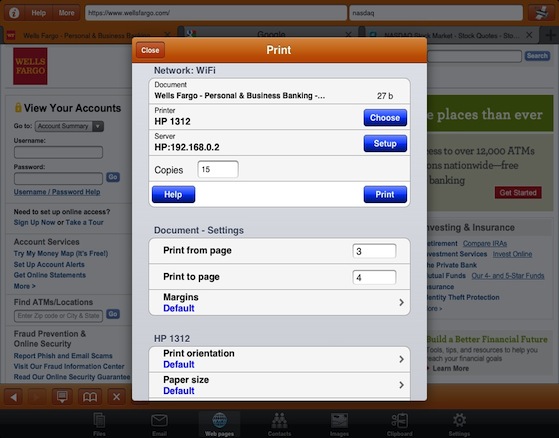 Features
Fully Functional Printing with options
Print direct to most existing WiFi or shared printers, or use the free printer software for ALL printers
Print from other apps using "Open in..."
USB & Bluetooth printers can be used with free print server software
Also print to Apple AirPrint printers
Print remotely via 3G/4G
Print using ALL the same document formats to ALL printers that can used by your Mac/PC (e.g. USB, WiFi, Bluetooth, shared, networked etc.)
Convert documents to PDF files (in-app upgrade)
Print via Google Cloud Print
File Management
Open attachments from the Apple Mail app directly into PrintCentral and print straight away
Transfer docs and files via iTunes using USB cable (Apps Tab)
Open documents stored in PrintCentral directly into iWork for easy editing
Open files stored in the Cloud (FTP, iDisk or WebDAV service) directly into iWork without downloading them (all done in the "Places" section of PrintCentral)
Fully integrated with Evernote
Open & print files directly into PrintCentral from any other app that support the "Open in..." file sharing
iPad & iPhone Print Center
Calendar Viewing and Printing (in-app upgrade)
Calendar viewing and printing
Utilizes existing calendar entries
View by Day/Week/Month
Handy Month drop-down view
Easily create new appointments
Integrated with Exchange, Apple and Google Calendars
Email
Print email and attachments
Access multiple email accounts
View favorite email accounts together in a single inbox
Save emails and attachments
Attach multiple files and images to new emails
Send emails with formatted text and embedded images
Insert contact details into emails
Forward and reply to emails
Full screen viewing of emails
Queue emails for sending later
View queued and sent emails
Supports virtually all email accounts
Supports Exchange EWS or Exchange 2007, 2011, 2013
Filter IMAP/OWA email by date
Cloud Services
Google Drive
Box
ShareFile
SugarSync
CloudMe
CloudMe
DropBox
SkyDrive
Transporter
FTP servers
WebDAV
Documents
View/Print Microsoft Office files
View/Print iWork Pages, Numbers & KeyNote files
Store documents, attachments and images
Zip/Unzip files directly on your iPad/iPhone/iPod Touch

View files/documents in portrait, landscape and full screen mode
Playback iPad or iPhone supported audio and video files
Edit and print text documents
Group files into folders
Drag and drop files and folders to arrange
Navigate through your computer's folders to find files
Copy whole folders from your computer
Share files with several Macs and PCs, even remotely
Copy & archive your Clipboard
Save & rename regularly used text, photos, contact details and lots more for use with copy & paste function on the iPhone
Save & archive 'Clips' into your own folders in ClipPrinter
Send 'clips' & documents/files via email
Email 'Clips' directly from within ClipPrinter
Email files, photos, web pages and formatted messages
Send emails from your own email accounts
Copy & Transfer
Copy and transfer to another user's iPad/iPhone/iPod Touch using Bluetooth or WiFi (both devices require PrintCentral)
Copy and transfer to your PC or Mac via WiFi
Copy and transfer FROM your PC or Mac to your iPad/iPhone/iPod Touch via WiFi
Create & Edit Notes (in-app upgrade)
Create formatted Notes
Add photos and contacts to Notes
Convert Notes to a PDF file (requires Print to PDF)
Spell checker for Notes
Web Pages
Print from Safari by inserting a z before http for any web page
Copy and paste web pages which will retain formatting
Print web pages as you are browsing within the app
Send web pages as email attachments
Full screen browsing view
Save web pages as files for printing or viewing later
Save page bookmarks
Import bookmarks from your PC or Mac
Bookmark folders
Forward and back navigation
Print contacts
Select multiple contacts for printing
Print as combined list or card layout
Insert contact details into emails
Add received email addresses to your contacts
Search for contacts
Sort by first or last name
Print Photos
Select and print multiple photos from your album
Use the camera to take photos and print straight away
Save photos as files for viewing or emailing
Move photos to a folder on your computer
Email photos as attachments or embedded in messages
Select print orientation and size before printing
View photos in full screen mode
WiFi Hard Drive
Mount your iPad/iPhone/iPod Touch as a network disk on your Mac/PC
Drag and drop documents & files to/from your iPad/iPhone/iPod Touch
Open, view & send documents and files while away from your Mac/PC