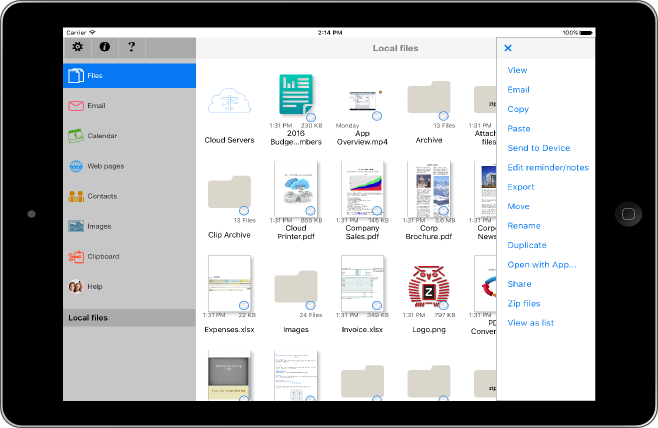 Print ALL Content to ALL Printers
Print, Store and PDF convert files, images, web pages, contacts, calendars and much more...
PrintCentral Pro provides a complete Print and File Management solution for the iPhone, iPad and even the Apple Watch.
Print using ALL the same document formats to ALL printers that can used by your Mac/PC (e.g. USB, WiFi, Bluetooth, shared, networked etc.)
Print and manage a host of content from other apps and cloud servers.
File & Cloud Server Management/Transfer
The most Advanced File Management app available for the iPhone & iPad!
PrintCentral Pro is the only complete no compromise File Management Mobile Solution. With support for all major cloud services, seamless transfer between cloud servers, devices and your Mac/PC, archiving, folder organization, renaming and much more ...
"Your iPhone or iPad is the only device you need!"
Email and Attachment Tools
Save and Send Attachments from cloud servers. Print and PDF Convert Emails and Attachments.
Add all of your email accounts for access in a single Inbox.
Quickly print emails to ALL printers. Save Emails as PDF files for sharing and archiving.
Save attachments as files for archiving and resending. Attach Cloud and local files to emails for sending. Email photos.
Web Page, Contact and Photo Printing
Print and PDF Convert content for viewing later
Print and save Web Pages or download files for archiving.
Print all of your contacts, or groups, as a list or Contact card layout.
Print Photos in multiple sizes direct from your Photo Album.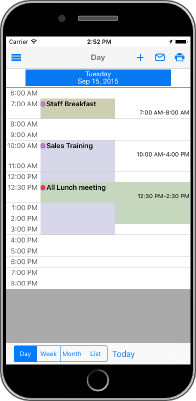 PDF Conversion of all Content
PDF Convert - Web Pages, Documents, Photos, Emails, Attachments, Contacts and your Calendar
Convert a whole range of document types to PDF for emailing and sharing with others.
Share documents and content in a compatible format that can be read offline.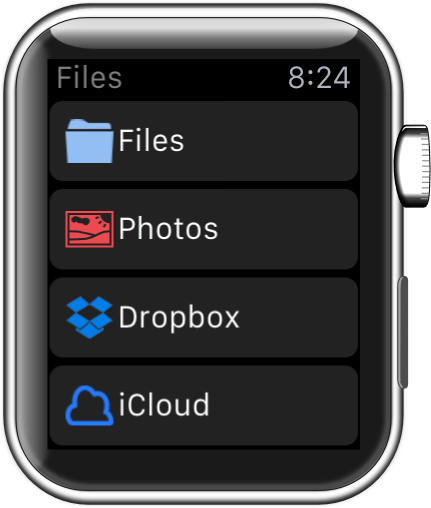 Print from your Apple Watch
Print Cloud Files and Images straight from your Apple Watch
PrintCentral Pro for the Apple Watch will print all the same cloud server files as the iPhone App.
Scroll through files and folders to preview - and then print the files you want, to the printer you choose.
View all of your photo albums and images without syncing, and then print them.
Watch the PrintCentral Pro Video